The Solar Decathlon Europe 2021»2022, an epic milestone in our SDE history… taking stock to highlight the winning teams.
Three years after the SDE19 Competition in Szentendre, Hungary, the Solar Decathlon Europe was celebrated again, under the blazing June sun in Wuppertal, Germany. International in fact and in spirit, the SDE21»22 again included a diverse group of Decathletes from sixteen university teams representing ten different countries from two continents. After thrilling assembly and competition periods of hard work, heat, fun, and new friendships, the teams and their prototypes achieved remarkable outcomes. Two years of multidisciplinary student collaboration from academic disciplines including architecture, engineering, design, communication, and business have generated spectacular results. The SDE21»22 was a smashing success.
While all teams demonstrated brilliant features, four teams stood out. They excelled after competing in the ten contests that put the Decathletes and their prototypes (House Demonstration Unit, or 'HDU') to the test in terms of performance, energy efficiency, comfort, and resource-responsibility. The Energy Endeavour Foundation, governing body of the SDE, is proud to introduce the top four winning teams from this milestone edition of the Solar Decathlon Europe.
---
RoofKIT _ 1st place!
Changing the world_ and they mean it!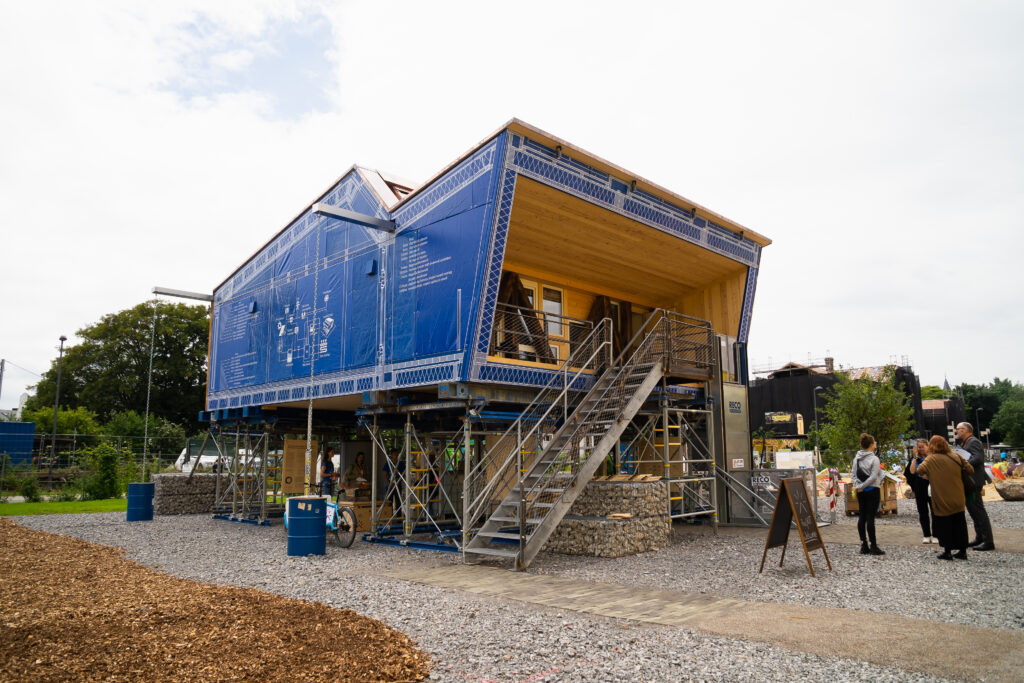 Team RoofKIT integrates beauty, utility, solidarity, and socio-ecological responsibility. By leaning into the contemporary dynamic of climate change, resource scarcity and social distancing, the team has created a lighthouse for urban regeneration. Beyond the use of energy-efficient, biological and circular materials, team RoofKIT bridges social strata by providing attractive housing in inner cities for all.
Team RoofKITs building exhibits a blend of mechanically joined and deconstructable elements with a high degree of innovative biological and circular materials. A careful combination of both old and new materials highlight the architectural contrasts between age and aesthetics. Air-dried adobe brick, wooden beams (made from spruce and pine trees), mycelium bound insulation, clay, and sea grass are all low-carbon and biological materials that are used for and contribute to a comfortable and fresh interior.
Operational costs were reduced by shifting the paradigm from that of urban mining to urban materials collection; the building is used as a repository for a wide range of recycled materials from multiple sectors, from transport to agriculture. Some of the pre-existing materials exhibited in Team RoofKITS HDU include panels made from upcycled beverage cartons, ceramic plates from broken glass, truck tarpaulins for façade cladding, recycled demolition bricks, as well as copper, and stainless steel. This approach truly exemplifies the principals of the circular economy, resource integration, and energy optimisation.
RoofKIT's HDU is perceived as a timber pod on steel reinforcing. A waiting area or a dance floor is below. The modular timber pod consists of four partitions; the interior is open, and a functional core contains all sanitary facilities and technical equipment. By utilising the unrealised potential of rooftops and the boom in prefabricated housing, RoofKITs HDU can be assembled in one day!
---
VIRTUe _ 2nd place!
Ripple_ normalising low-impact living.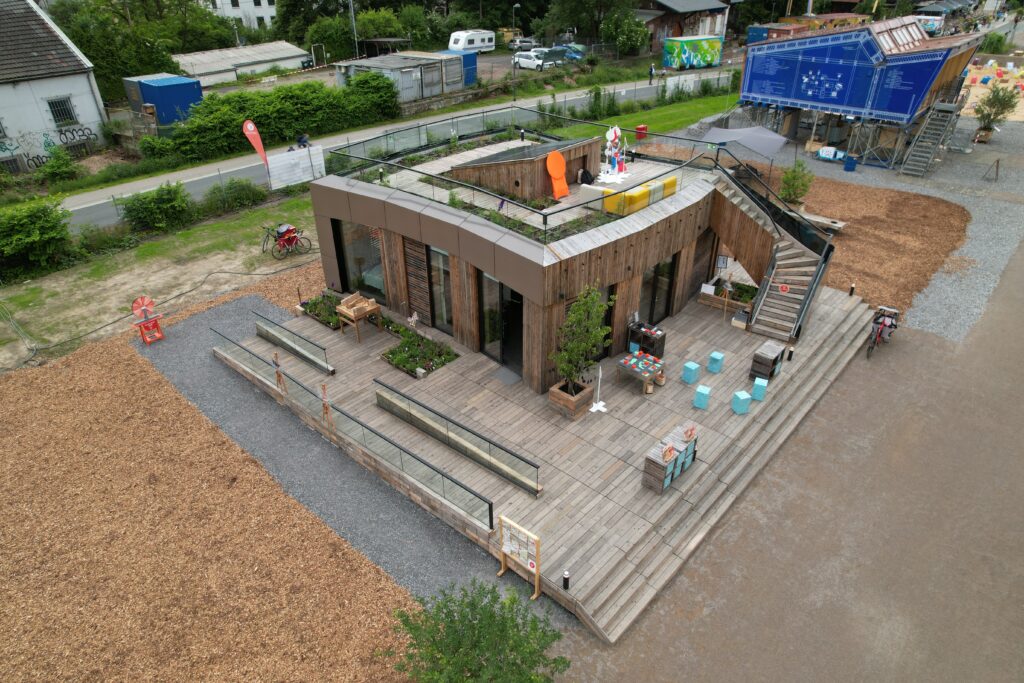 Team VIRTUe draws inspiration from the ripple effect concept to improve the sustainability of various northern European cities. Through their project and ripple philosophy, they catalyse socio-ecological awareness and normalise low-impact living. In this way, industry and users are aligned to design, build, and operate sustainable urban infrastructure around them. Within 20 years, VIRTUe aims to reduce motorised traffic in cities by reclaiming space for habitation, shared spaces, and biodiversity.
The ripple concept is embodied in Team Virtue's HDU. Their HDU represents a highly efficient living unit for two households, where innovation, functionality, efficiency, and circularity converge. The team followed a layered approach including a fixed timber load bearing core, flexible façade and interior, as well as free moving furniture for efficient maintenance. In a communal room, inhabitants can control the central core and electrical appliances through a smart energy management system called EQUI, which visualises energy production and consumption peaks for the economical scheduling of appliances. The common area also facilitates the sharing of resource and ideas! The HDUs façade is wrapped in a customised solar belt, maximising energy gains throughout the day.
Team VIRTUe offers a relevant solution in relation to medium density neighbourhoods. A major selling point in terms of innovation is scalability: the project succeeds in presenting a convincing concept of prefabrication and commercialisation. The team presents a detailed study of the different building components based on specific calculation tools to optimise passive and active control strategies.
---
SUM _ 3rd place!
Symbiotic Urban Movement_ live better together.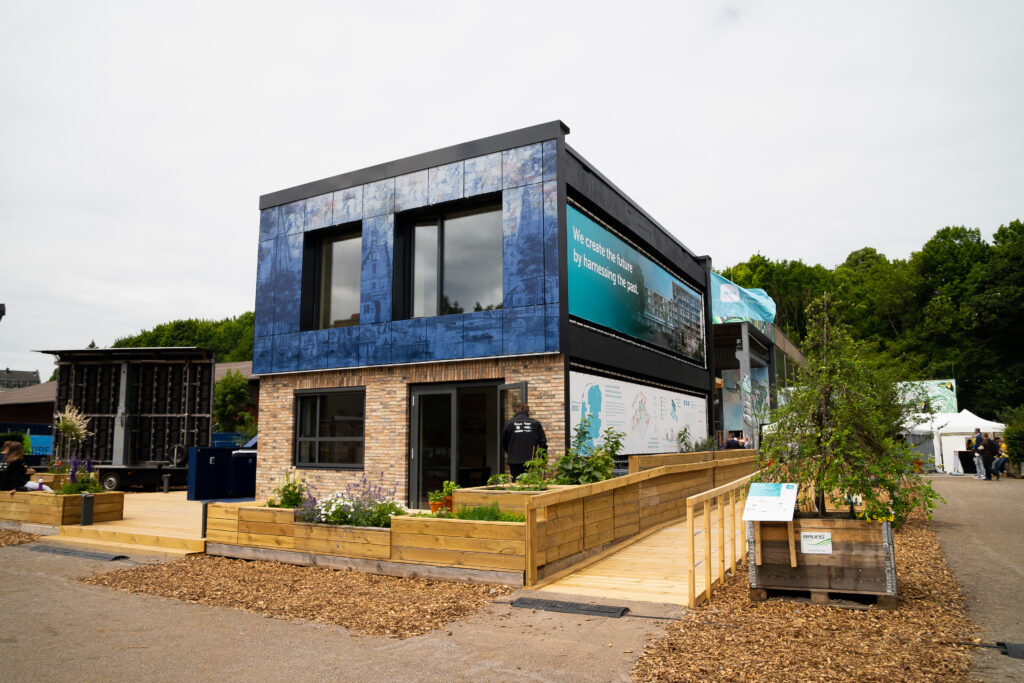 Team SUM aims to provide a renovation concept for 847,000 homes in the Netherlands. Their strategy focuses on repurposing existing tenement flats to tackle socio-ecological and economic challenges surrounding the housing shortage; their methodology is driven by renovation and densification to create an additional one million extra homes by 2030. Community cohesion and social diversity is increased by adopting a mixed strategy of renting and selling.
Through a well-defined approach, Team SUM addresses the unsustainability of construction industries while simultaneously providing affordable housing solutions for a target group that would not conventionally qualify for housing. Team SUM adopted a well-insulated building envelope, low-tech HVAC systems, and biobased materials, which all contribute towards a low carbon footprint and comfortable spaces.
Team SUM's HDU represents a renovated ground level, top floor housing, and circulation core. The renovated ground level is transformed into a 'makers space' that can be used for community gatherings and the promotion of new sustainably-oriented-innovations. The top-up densification strategy consists of two prefabricated modules and showcases a one-bedroom unit layout for a young entrepreneur. The smart module contains the bathroom and kitchen while the standard module is an open living space. Flexible furniture allows adaptation for various living scenarios. The circulation core is a modular wooden staircase that also acts as an urban mobility storage site, playground, and public forum.
---
AuRA _ 3rd place!
Agathe & Sophie: A territory in resilience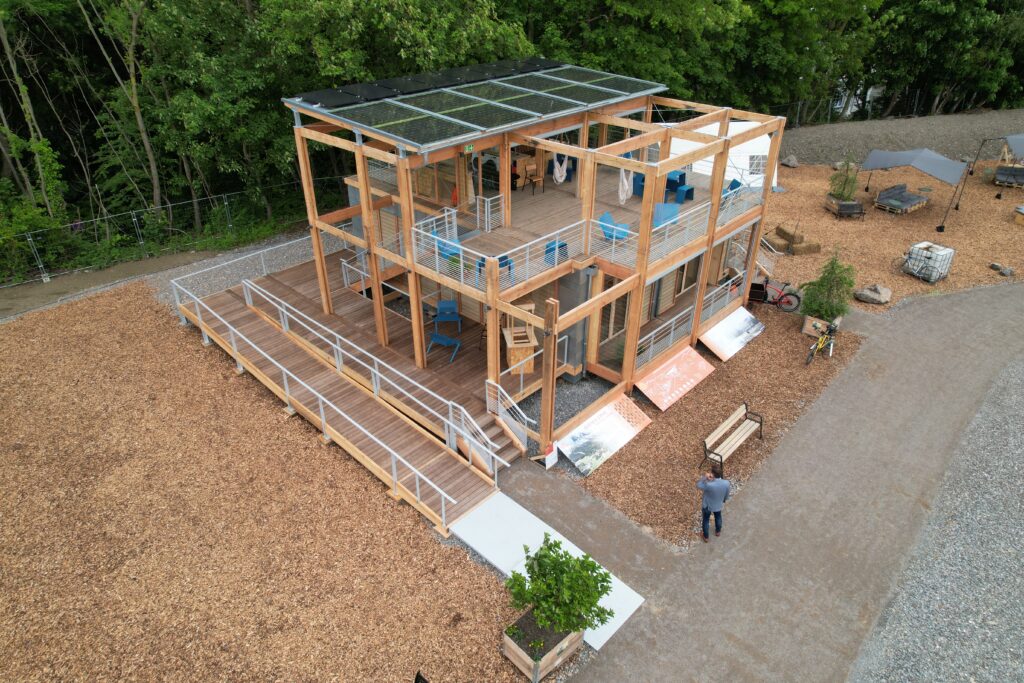 Team AuRA's project is situated in the Col de l'Arzelier in the community of Chateau Bernard. They seek to revitalise rural areas that have been adversely impacted by global warming, particularly the melting of icecaps. Their objective is to redevelop a 70s former mid-altitude ski resort hotel into more family-oriented habitat.
The pre-existing hotel layout was adapted by the team and integrated with re-used and biological materials. These include an exo-wooden frame, straw insulation, and clay plaster. The technical network follows the constructive logic of the existing structure by inserting itself into the buildings grid. This enables the anticipation of the building's evolution to facilitate the maintenance of the technical elements.
Designed as an exemplary unit of the whole building scale, the HDU is focused on health and a sense of comfort. A concrete core simulates the existing building, and provides the necessary thermal mass. The use of natural clay in the HDU ensures that comfort and air quality levels are maintained, favouring hygrometric regulation. Team AuRA's HDU features solar PV panels that were reused from a previous Solar Decathlon Europe Competition project. The HDU's terrace demonstrates a space conducive for social gatherings and is outlined by an exo-wood structure, which was sourced from regional mills.
Lead image credit: Photography Aryan Mirfendereski