Advancing technology, embracing creativity!
As this year draws to a close, we look back at last year's second Solar Decathlon Middle East 2021 (SDME21), and celebrate the first place X-House from the South China University of Technology.
The SDME21 was initiated under the patronage of His Highness Sheikh Hamdan bin Mohammed bin Rashid Al Maktoum, Crown Prince of Dubai, and Chairman of Dubai Executive Council. This was the result of an agreement to advance net-zero carbon buildings and renewable energy transitions between the Dubai Supreme Council of Energy, Dubai Electricity and Water Authority (DEWA), and the United States  Department of Energy (USDOE), who signed a collaborative agreement to host the SDME from November 2018 – November 2021.
Serendipitously, the SDME21 coincided with the Dubai World Expo 2020, the global event showcasing cutting edge technologies. In an attempt to deliver the world's most sustainable expo yet, the expo also featured key SDME prototypes and related technologies. Importantly, the Expo 2020 also highlighted a pavilion showcasing the importance women have had on science, as broadening innovation platforms to include everyone in the quest for peaceful and ecological stability is vital. 
The SDME21 took place at the Mohammed bin Rashid Al Maktoum Solar Park, and addressed unique geographical characteristics, ecosystems, and climates; as the local bioregion is characterised by high temperatures, humidity, wind and dust, Decathlete teams focused on how urban infrastructure can efficiently and responsibly adapt to these conditions, the impacts of Covid-19, and climate change in general.
First place! X-House from The South China University of Technology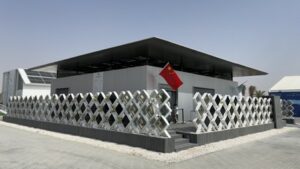 Image source: Energy Endeavour Foundation
Wenhao Zhang, team lead for X-House and PhD candidate in architecture from the South China University of Technology was asked what innovations contributed towards his team's stellar performance. "This team drew inspiration from the past", says Zhang. By observing the brilliance within traditional Asian architecture, the team incorporated a multifunctional atrium, which is typical in Asian cultures. In X-House, the atrium space forms a multifunctional area that can be converted into a living room, dining room and even an office.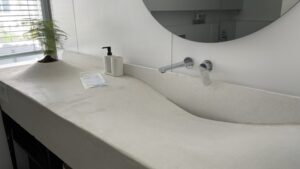 Image source: Energy Endeavour Foundation
A key innovation in X-House is the interlayer, which is located beneath the roof. The upper roof is elevated with PV panels to create an in-between ventilation feature. The interlayer has electric plates that control the flow of wind into the building. Prompted by temperature detecting sensors in the house, the plates can accelerate wind down into the rooms, allowing for natural ventilation as well as passive cooling of the PV panels. In the case of cars sand and dust conditions, the electric plates can close, blocking out all sunlight and wind. This innovative system marries automation with passive systems, taking thermoregulation to the next level.
X-House also has an open-source smart system that connects to all devices, appliances and inside equipment. This can optimise HVAC, lighting, temperature, humidity, and even CO2 levels. Machine learning can also be integrated to improve efficiency and comfort. Also, the house provides flexibility through customisation, while maintaining supply-side standardisation: the pre-fabricated X-House is modular and can be quickly assembled, catering to broad audiences at different life stages.
Team member Yilin Deng celebrates the green-wall that surrounds the outer perimeter of the building. This feature consists of a modular aquaponics system, which combines 3D printing, drip irrigation, and vertical farming. The green-wall encloses the building, supports urban biodiversity, and improves energy efficiency and comfort conditions.
On the topic of sustainability, Wenhao Zhang emphasises: "I think a key word is to optimize. And you have many aspects to optimize… From an energy perspective, you have to generate more energy, consume less, and embrace passive and active strategies. This includes lifestyle changes and using energy efficient appliances. The building envelope should help contribute towards a sustainable lifestyle."
Yilin Deng calls for socio-technical sensitivity:
"My take on sustainability is people-centric. One perspective is energy efficiency. The other is the user. If your house is only energy efficient through complex means, the user won't be efficient because it is too complicated. The main point is to make processes easier to reach a sustainable lifestyle. It comes down to simplifying interventions, and educating people on how to use them." Yilin Deng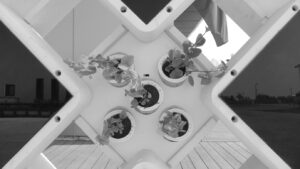 Image source: Energy Endeavour Foundation
By reaching into traditional Asian architecture and including cutting edge sustainably-oriented innovations, X-House touches the past, present, and future. The integration of the interlayer, atrium, and 3D printed green-wall is remarkable. Hats off to China's X-House Decathletes, who are already contributing in advancements for balanced habitation and regenerative communities!
S. Alimohammadi for the Energy Endeavour Foundation