Sergio Vega, Charter Member of the SDE Council of Experts,
is a PhD Architect specialised in technical risk management, technical assistance,
& quality control in construction.
Sergio graduated from the Universidad Politécnica de Madrid (UPM) & Project Management Institute (PMP) earning his Master's degree in Building Consultancy, & Specialist degrees in Building Retrofitting
& Project Management. In his broad professional career as an architect, Sergio has worked for 25 years with several well-established Spanish firms contributing to important technical building solutions.
Since 2002, he has applied his versatile background to his role at the School of Architecture of the Universidad Politécnica de Madrid; Sergio is a professor, researcher, & the head of the Master's Programs
in Real Estate & Building Risk Management as well as Real Estate & Facility Management. Sergio's expertise
is in industrialised buildings & high energy-efficient technical solutions in buildings. He has contributed
as main researcher on many research projects such as INVISO (sustainable housing industrialisation),
BALI (Improvement of acoustic behaviour in housing), & SIREIN (high energy efficient solutions for
building retrofitting).
In addition to this, Sergio has acted as coordinator & main researcher of the 10ACTION project, funded by E.U. as part of the Intelligent Energy Europe Program. As member of the TISE Research Group — which is concerned with innovative & sustainable technologies—, Sergio guided the UPM team behind the Casa Solar of the U.S. Solar Decathlon 2007. Subsequently, he extended this work in his role as general director & project manager for the first two SDE editions held in Madrid in 2010 & 2012.
Sergio is engaged in the important task of gathering, organising & transferring information & data generated by the Solar Decathlon Europe community, optimising technical knowledge within industrial, professional & scientific communities.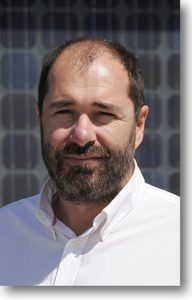 Sergio Vega, Charter Member, SDE Council of Experts
Policy Advisor, Energy Endeavour Foundation's Board of Directors
sergio.vega@solardecathlon.eu
http://energyendeavour.org/experts/sde-council-of-experts/#SergioVega